Passenger train wooden toys with two wagons
400 x 80 x 90 mm
| | |
| --- | --- |
| Manufacturer: | SOLY |
| Code: | VL 90 |
| Availability: | Stock |
Quantity discount
From 2 pcs:
30.00 €
| | |
| --- | --- |
| Your price without VAT: | 25.62 € |
| Your price with VAT: | 31.00 € |
Price changes automatically according to the number of pieces
Trains toys from wood
100% wooden train
historical wooden retro train toy with two vagons. You can order personal text on.
Related items
350 x 70 x 110 mm. Can be ordered also text engraving on the toys.
>
Stock
39.00 €
38.00 € From 2 pcs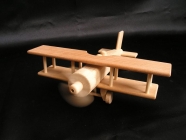 240x240x100mm. Movable airplanes with moving parts such as propeller and wheels. Excellent and impact resistant certified wooden toy made in the EU.Very nicely done. Surface of toys is not colored, but waxed for children safety - EKO toy.
>
Stock
21.00 €
20.00 € From 2 pcs
Stock
31.00 €
30.00 € From 2 pcs