Historischen Holz-Straßenbahn Spielzeug
350x102x115 mm, zwischen den Rädern 40 mm.Eine Holzstraßenbahn aus massivem Buchenholz. Die Oberfläche ist eingewachst und poliert. Ein ökologisches Spielzeug für Kinder und Papis.
| | |
| --- | --- |
| Manufacturer: | SOLY |
| Code: | TSV 96 |
| Availability: | Stock |
Quantity discount
From 2 pcs:
36.00 €
| | |
| --- | --- |
| Your price without VAT: | 30.58 € |
| Your price with VAT: | 37.00 € |
Price changes automatically according to the number of pieces
Die Straßenbahn ist in heutiger Terminologie
ein Tramwagen oder ein Straßenbahnzug, Spielzeug
Früher wurde mit dem Begriff "Straßenbahn" eine Schienenbahn bezeichnet. Der andere Termin – die Tram - kommt aus der englischen Wortverbindung tramway ("tram" bedeutete eine Schiene oder einen Förderwagen, "way" heißt in Englisch "der Weg"), die ursprünglich für industrielle Eisenbahn benutzt wurde. Der Termin "Tram" im Sinne "das Gleis" entstand sehr wahrscheinlich in den sächsischen Kohlgruben, wo man die Tramen (Balken) mit ausgehöhlten Spuren verlegte. Förderwagen wurden mit Bolzen ausgerüstet, die auf der Bahn in Spuren rutschten und dadurch stabiler waren. Das war der Ursprung von Eisenbahn. Diese Bezeichnung für Gleise wurde in der Zeit des Pferdebahnbetriebs sowie später im Bereich der Dampftraktion und anderer Traktion allgemein benutzt. Heute gehört sie vor allem in die Sphäre der elektrischen Traktion mit Fahrdrahtoberleitung.
Source: wikipedia
Related items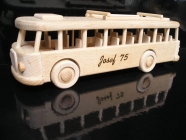 No panorama of the packaging. 32x10x11 cm Beautiful mobile bus. Durable wooden toy. Ideal gift and personal dedication that we can arrange for you. more in product detail.Wooden bus toy.
>
Stock
42.99 €
39.90 € From 2 pcs
320x100x110 mm Engraving is ordered with an extra link under the Add to CART icon.
>
Stock
49.99 €
45.99 € From 2 pcs
18 cm + base. The vehicle can be removed from the pedestal and is mobile. DEDICATION IS ORDERED with an extra link under the INSERT TO CART icon.Gift veteran car, gifts for men, drivers.
>
Stock
37.99 €
35.55 € From 2 pcs